Current semester: Spring 2017
Policies Common to all Courses
Attendance: See Student Absence Policy website

Academic Honesty: See Academic Honesty Policy website

Late Labs/Homework: In case you have a legitimate reason for submitting a late Lab/Homework you will have to fill the form for late submissions: pdf
Under no circumstances late work will be accepted after 4:30pm of Study Day of the current Semester.

Make-Up Test/Quiz: In case you have a legitimate reason for missing a Test/Quiz you will have to fill the form for make-ups: pdf
Under no circumstances make-up exams/quizzes can be taken after 4:30pm of Study Day of the current Semester.

Final Exams: See Final Exam Policy website
Check the date of your final exam and make plans around that date.
Examples of NOT valid excuses: flight tickets, two finals the same day.
In case you cannot take the final exam for very serious reasons, contact me as soon as possible and provide written documentation.

Special Accommodations Statement: Minnesota State University Moorhead is committed to providing equitable access to learning opportunities for all students. The Disability Resource Center (DRC) is the campus office that collaborates with students who have disabilities to provide and/or arrange accommodations.
If you have, or think you may have, a disability (e.g. mental health, attentional, learning, chronic health, sensory or physical) please contact the DRC at (218) 477-4318 (V) or (800)627.3529 (MRS/TTY) to schedule an appointment for an intake.
Information regarding Disability Services is available at the website
If you are registered with the DRC and have a current Accommodation Letter, please schedule an appointment to visit with me, during my oce hours, to discuss implementation of your accommodations.
Sexual Violence Prevention Statement: Acts of sexual violence are intolerable. MSUM expects all members of the campus community to act in a manner that does not infringe on the rights of others. We are committed to eliminating all acts of sexual violence. MSUM faculty and staff are concerned about the well-being and development of our students. We are obligated to share information with the MSUM Title IX Coordinator in certain situations to help ensure that the students safety and welfare is being addressed, consistent with the requirements of the law. These disclosures include but are not limited to reports of sexual assault, relationship violence, and stalking.
If you have experienced or know someone who has experienced sexual violence, services and resources are available. You may also choose to file a report. For further information, contact Lynn Peterson, Coordinator of Sexual Assault Services at Hendrix Clinic and Counseling Center, 218-477-2211, or Ashley Atteberry, Title IX Coordinator in Owens Hall 208 (218-477-2174; ashley.atteberry@mnstate.edu). Additional information is available at: website.
---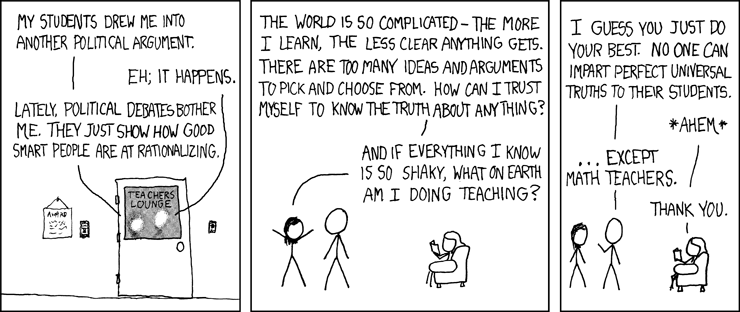 Credit: xkcd