Black Baseball in Minnesota
Steve Hoffbeck, History Department, Minnesota State University Moorhead, Moorhead, Minnesota.
QUOTE: "Each heart knows its own bitterness, and no one else can fully share its joy."
Proverbs 14:10.
This web page is intended to serve as a resource for those who want to know more about the black baseball players who played in Minnesota in the past. The research data included in these pages will help establish the whereabouts of those players who spent parts of their careers in Minnesota and the identities of the teammates that these men had throughout their careers.
[Photo: St. Paul Uptown Sanitary Team with Bobby Marshall (second row, third from right), and Johnny Davis (first row, second from right). Photo from the Minnesota Historical Society.]
About the Book 'Swinging for the Fences: Black Baseball in Minnesota'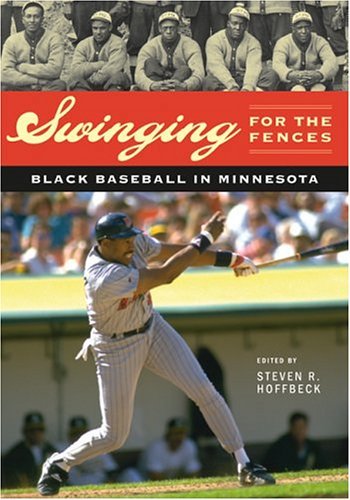 Cover photo from SWINGING FOR THE FENCES---featuring the players of the St. Paul Colored Gophers on the top of the image and Hall of Famer Dave Winfield on the lower part of the cover. The book is available directory from MHS Press and at booksellers everywhere after February 1, 2005; it is also available on the web at Barnes & Noble.com or Amazon.com; at these addresses:
Amazon.com, please click on this line:
http://www.amazon.com/exec/obidos/tg/detail/-/087351517X/qid=1109269980/sr=1-1/ref=sr_1_1/103-3784867-3699832?v=glance&s=books
Barnes and Noble.com, please click on this line:
http://search.barnesandnoble.com/booksearch/isbnInquiry.asp?userid=QC7qtB0Bk7&isbn=087351517X&itm=1
Quote: "Are not there little chapters in everybody's life, that seem to be nothing, and yet affect all the rest of the history?"
William Makepeace Thackeray (1811-1863). Vanity Fair; A Novel Without A Hero, (New York: A. L. Burt Co., 1848), p. 41.
This next page contains a HUGE list of players who played in Minnesota, as many as I could find and could trace. The researcher will find career information about players who left one city, such as Chicago, and continued his career in Minnesota. I have put the file into TWO different text formats, the first is in Microsoft Word format; the second format in in "rich text format" which is readable by MacIntosh computer users and those who use other word processing programs.
"Minnesota's Black Baseball Players," By Steve Hoffbeck
(in .doc format)
(in rich text format, for those who do not have Microsoft Word)
If you wish to contact me, please write to:
Dr. Steve Hoffbeck
History Department
Minnesota State University Moorhead
1104 7th Ave. S.
Moorhead, MN 56563
Or: email at stevehoffbeck@yahoo.com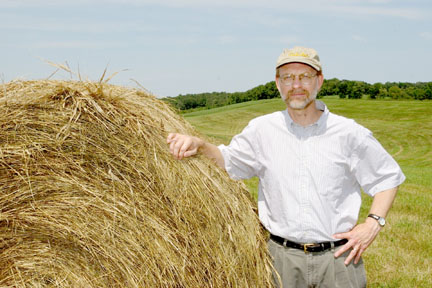 Author Steve Hoffbeck standing in a field of dreams near Rollag, Minnesota.