MSC Sports, 1980-89
by Larry Scott
FOOTBALL
Flush from a NIC championship run in 1979, MSU Moorhead christened its greatest decade with an 8-2-0 finish in 1980. The Dragons broke from the gate with a 7-0 start, but a painful 16-15 loss at UM Morris on week eight removed MSU from the championship chase and post-season play as well. Still, the nation took notice, and quarterback Mark Reed (Moorhead) and cornerback Jon Wylie (Gibbon) collected All-American certificates. Reed would also be drafted by the New York Giants of the NFL on the eighth round. Backup quarterback Marc Trestman (St. Louis Park), who would later log a prosperous career as an offensive coordinator in the National Football League, inked with the Minnesota Vikings as a free agent.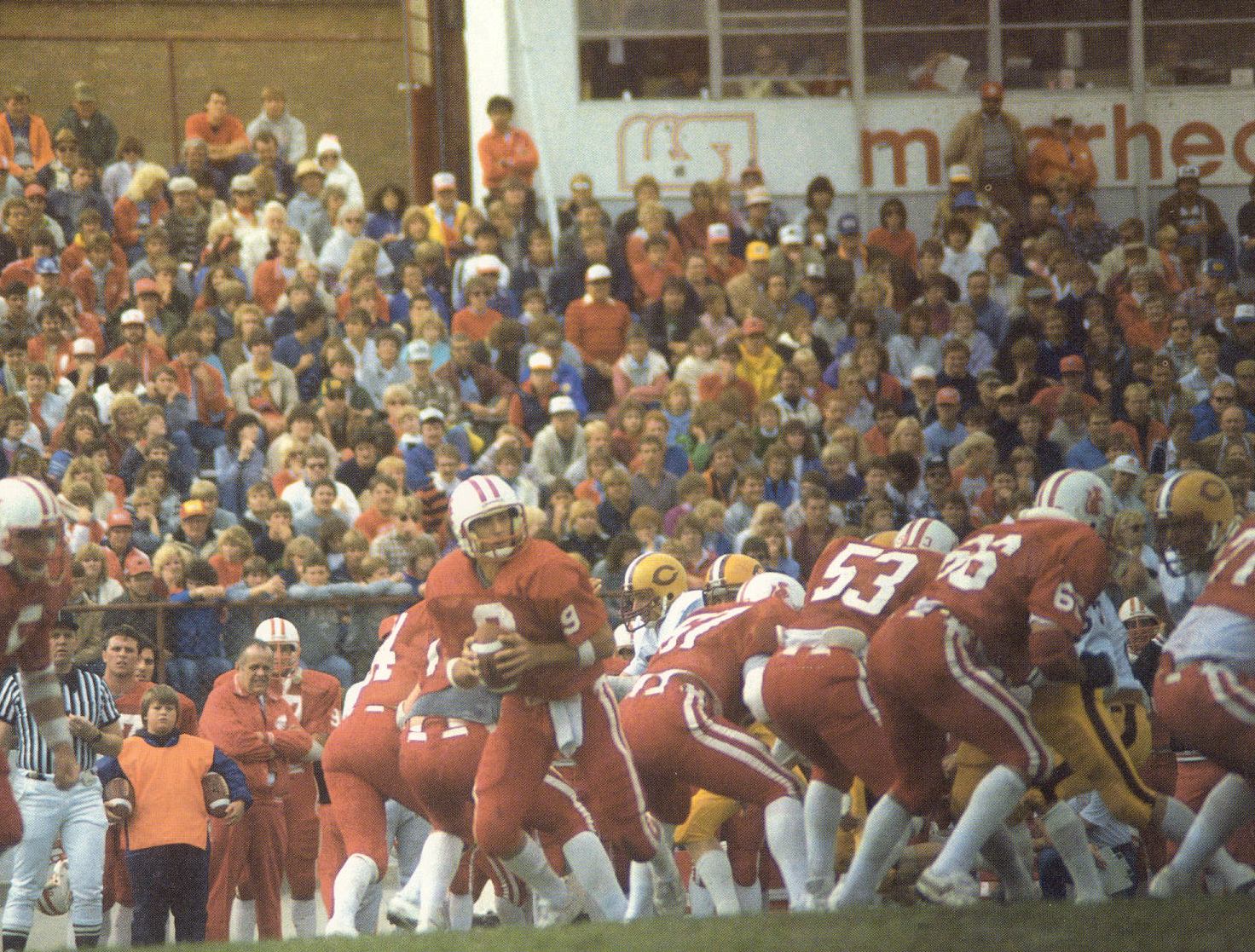 By 1981 the maturing Dragons reached full bloom, and roared to a 10-0-1 regular season finish that included another NIC title and the number one ranking on the final NAIA Division I national poll. A lineup chock full of talent featured quarterback Dennis Eastman (Wahpeton, ND), runningback Jerry Allen (North St. Paul), tight ends Scott Simpson (Robbinsdale) and Gregg Veldmann (South St. Paul), and wide receiver Michael Howard (Portsmouth, VA) on offense, while linebacker Paul Brigandi (Rochester, NY), end John Eckl (St. Paul), strong safety Bill Moore (Plymouth), free safety Al Strandberg (Strathcona) and tackle Dave Tuomi (Kettle River) anchored a rock solid defense that set a national record with five consecutive shutouts.
It all looked so perfect, but dreams of a national championship died at Brandenburg Stadium in Pittsburg, KS in early December when host Pittsburg State University scrambled from a 13-0 second half hole to pin a 14-13 loss on the Dragons and advance to the NAIA Division I National Championship game.
While the 1981 Dragon edition was arguably the finest collection to wear the scarlet and white, Fortier was quick to retool, and MSU remained a major player on the national landscape for years. Ignited by All-American runningback Randy Sullivan (Stewart), the Dragons responded with a 7-2-1 finish in 1982 and a return trip to the NAIA I playoffs for a date at Mesa (CO) College. Following a 6-3-0 downturn during a major rebuilding campaign in 1983, MSU collected another NIC championship with a 8-3-0 mark in 1984 but fell at Central Arkansas, 30-6, in the national playoffs. Sullivan led the nation in rushing (140.6) and scoring (13.2) as a senior, and passed the torch to Troy Hendricks (Bemidji). The transfer from North Dakota made for a seamless transition, leading the nation in rushing (138.4) and scoring (12.4) in 1985. MSU posted a 8-2-0 record in 1985, but a 20-10 NIC Metrodome Classic ambush by Northern State scuttled post-season dreams.
After a 6-5-0 record in 1986, the Dragons returned to the NSIC summit in 1987 with a 9-3-0 record that included a 27-7 playoff loss at Gardner-Webb (NC). The Dragons repeated as league champs and stunned number two ranked Mesa (CO) College 26-16 in the opening round of the NAIA I playoffs during a 9-3-0 run in 1988. John Dallman (Glyndon) rambled through the startled Mavericks for a whopping 232 yards, and the Dragons closed the decade with a 6-4-0 mark a year later.
BASKETBALL
Basketball fortunes at Moorhead State quickly plummeted when Dave Schellhase moved to Indiana State. Vietnam veteran John Nelson brought a rather heroic personal resume to his new post as head coach at MSU in 1982, but the Dragons managed only one winning seasons in five years under Nelson. When he left following a 12-17 record in 1986-87, the Dragons launched an ambitious search to find a worthy replacement, and the hunt produced a surprise choice—Schellhase. The impatient Sycamores of Indiana State, spoiled by the singular brilliance of the legendary Larry Bird, began the first of several coaching changes by jettisoning Schellhase after three seasons in 1985.
President Dr. Roland Dille was quick to step to the podium and welcome his former coach back at a jammed news conference that trumpeted his return in 1987 (left, with 87-88 team). "This is a great day for our university for several reasons," said Dille. "I've watched three great basketball coaches over these many years at Moorhead State: Larry MacLeod, Marv Skaar and Dave Schellhase. Now we get a chance to welcome Dave again. . . Schellhase is a wonderful demonstration of personal courage that we can all learn from. For Dave Schellhase the best is yet to come."
After two losing seasons, Schellhase had the Dragons back on the winning track with a 16-13 printout in 1989-90, and Dragon loyalists couldn't wait for the new decade to arrive. Schellhase quickly landed an impressive recruiting catch, including Ralph Western (Plainfield, IN), Mike Polomny (Brooklyn Park), Lee McIntosh (West Fargo, ND) and Greg Duke (Evansville, IN), and a solid foundation was in place.
THE OTHER DRAGONS
In the long run, cross-country may have been the Dragons' most successful enterprise in the 80s, stockpiling nine NIC titles from 1981-90 and crowning four individual champions, including Dave Sederquist (Bagley) in 1981, Randy Goblirsch (Redwood Falls) in 1982, and Keith Haverland (Farmington) in 1983-84. Fred Dahnke, a product of the MSC track and cross-country program, replaced Bladow as head coach in 1981 and was named NSIC Cross-Country Coach of the Year three straight years. Dahnke piloted the Dragons to a ninth place finish at the 1992 NAIA National Championships and tutored 11 All-Americans.
The Dragon track program was at full throttle in the 80s, stocking Alex Nemzek Hall trophy cases with a flock of team indoor and outdoor championship plaques and dispatching quality athletes to national meets with increasing regularity. After spotting Mankato State conference indoor and outdoor titles in 1981-82, the Dragons ran the table the rest of the decade and extended their mastery to 10 consecutive NIC Indoor and NIC Outdoor team titles. MSU crowned a batch of All-Americans as well.
John Alin (West Fargo, ND) breezed to a national championship in the 1500 meters at the 1985 NAIA National Outdoor. The Dragons also received runnerup finishes from Joel Jorgenson (Redwood Falls) in the mile at the 1980 NAIA Indoor; Mark Waldera (Dickinson, ND) in the javelin at the 1982 NAIA Outdoor; Brett Ailts (Jackson) in the shot put; and the two-mile relay crew of Brad Milbeck (Pelican Rapids), Alin, Marc Ryan (Rosemount) and Keith Haverland (Farmington) at the 1984 NAIA Indoor; Alin in the mile, and the two-mile relay team of Alin, Milbeck, Mike Thomas (Moorhead) and Haverland at the 1985 Indoor; and Milbeck in the 800 at the 1986 NAIA Outdoor.
There were other valued performers as well, including sprinters Keith McCarty (Hawley) and Scott Anderson (Breckenridge); hurdlers Keith Barnier (Elk River) and Shawn Grabow (Renville); distance runners Pat Billig (Little Falls), Marv Denzer (Montgomery), Jeff Streich (Stewart) and Roger Thelen (Farmington); high jumpers Tyrone Ross (Foley) and Brian Rabenberg (Britton, SD); javelin specialists Paul Lykken (Kindred, ND), Bill Schmitz (Oakes, ND), Jim Anderson (Wahpeton, ND) and Jeff Meland (Bismarck, ND); and weightman Craig Peterson (Warren).
Times were not so giddy for the baseball Dragons. Senior transfer Ed Schumacher (Pine City), a one-year wonder indeed, made an unlikely but nearly successful bid for the national home run crown and earned all-league honors in 1980. Despite a late renaissance, there would be no deathbed reprieve, and the plug was pulled on intercollegiate baseball in May of 1983 following the greatest, and final, season. Head coach Joe Warner and his dead men walking ignored the gloomy backdrop to set a single season record with 28 victories en route to a 28-16 overall finish, a NIC championship, a sweep of College of St. Thomas in the NAIA District 13 championships, and an invitation to the NAIA Area tournament.
Five Dragons were showered with all-conference honors, including pitchers Wally Axelson (Spring Lake Park), Rick Hill (Glyndon), Tom Riewer (Bagley) and Bob Von Arx (Apple Valley), and outfielder Dave Schwab (Moorhead). After the final out, the baseball Dragons scattered to colleges and universities across the upper Midwest, including Hill and Riewer, who both later pitched for the University of Minnesota.