BIOL 355 TROPICAL FIELD BIOLOGY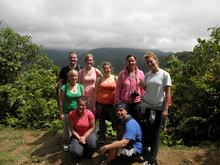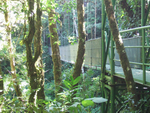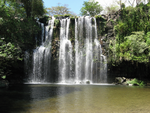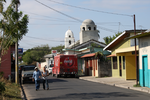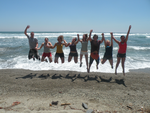 Course instructor: Brian Wisenden (wisenden@gmail.com)
Course objectives:
1. Introduction to the ecology of tropical ecosystems
2. Introduction to conservation biology
- the difficulty of balancing conservation with socioeconomic and political forces
3. Costa Rica as a case study
- the biology of Costa Rica
- the history of Costa Rican culture
- birth of present day park system
4. Field trip to Costa Rica over March break (10-21 March 2016) to gain first-hand experience
Syllabus
Book report guide for The Green Phoenix
Definitions of lead, facility, circle question
Systems literacy
Class schedule from 2016
Day
Date
Topic
Readings (Chapters are from Conservation Biology for All)
Opener
Facilitator
Question
Fri
15-Jan
Introduction, paperwork, organize
Dr. Brian
Dr. Dan
Course synopsis
Fri
22-Jan
Introduction to conservation biology
Ch1: Conservation biology: past and present
Dr. Brian
Dr. Brian
Dr. Brian
Understanding biodiversity
Ch2: Biodiversity
Katie
John
Lahren
Fri
29-Jan
Value of biodiversity
Ch3: Ecosystem functions and services
Stacy
Erin
Austin
Threats to biodiversity 1
Ch5: Habitat fragmentation and landscape change
Ben
Jacob
Alex
Fri
5-Feb
Threats to biodiversity 4
Ch8: Climate change + Brodie et al. 2012
Clarice
Jake
Jack
Threats to biodiversity 5
Vandermeer & Perfecto 1995
Brianna
Evan
Kristen
Fri
12-Feb
Conserving Biodiversity
Naughton-Treves et al. 2005
John
Lahren
Katie
Who will pay?
Balmford & Whitten 2003
Erin
Austin
Stacy
Fri
19-Feb
Costa Rica as a case study. Why here?
CR history and culture (Lieberman & Lieberman, unpubl.)
Jacob
Alex
Ben
Cabo Blanco 50 years on
Timm et al. 2009
Jake
Jack
Clarice
Fri
26 Feb
Monteverde & Ecotourism
Weinberg et al. 2002, Box 12.2
Evan
Kristen
Brianna
Advocacy for bioconservation
Kareiva 2008, Brussard & Tull 2007, Roberston & Hull 2001
Lahren
Katie
John
Fri
4-Mar
Exam on the readings (10%)
Book report due, Final check before trip
Thu
10-Mar
Fly out of Fargo 6:45 am
Mon
21-Mar
Return to Fargo 11:03 pm
Fri
25-Mar
no class
Fri
1-Apr
notebooks due, SAC prep
Fri
8-Mar
SAC prep
Tue
12-Apr
SAC
Itinerary for 10-21 March, 2016
Itinerary
Thursday (10th):
Fly to Liberia (Stay in Bagaces)
Friday (11th): Breakfast at Soda la Fuente, Cataratas llanos de Cortes, travel to Santa Rosa Park (sleep in Ecolodge Santa Rosa)
Saturday (12th):
Explore Santa Rosa tropicl dry forest
(sleep in Ecolodge Santa Rosa)
Sunday (13th): Travel to Ecolodge Cabo Blanco (sleep in Ecolodge San Miguel)
Monday (14th): San Miguel: birding, forest hike, snorkeling, tidepooling (sleep in San Miguel)
Tuesday (15th): San Miguel: snorkeling, tidepooling, shell-o-rama (sleep in San Miguel)
Wednesday (16th): drive to Ecolodge San Luis, settle in, volleyball (sleep in UGA-CR)
Thursday (17th):

Monteverde (with guides) pack lunch, free time in afternoon in MV to hike to the ventana, dinner at Ecolodge San Luis, insect lights at night
Friday (20st):
Cow milking, breakfast, lunch, Coffee Tour/Sustainability Tour/Horseback riding, night hike
(sleep in UGA-CR)
Saturday (21nd):
Sky Walk in AM, Zip lining or free time in Santa Elena in afternoon, evening meal at Tree Top cafe (sleep in UGA-CR)
Sunday (22rd): Leave San Miguel, settle in Guayacan (near Bagaces), explore geothermal energy production, hot springs, evening fiesta (sleep at Guayacan)
Monday (23th): Fly back to Fargo
Cost:
Flat rate of $2400 (financial aid available, some refund may be available if course fully enrolls), which includes:
- airfare
- transportation by microbus within Costa Rica
- ferry fare
- accommodations at all hotels and ecolodges
- all food at ecolodges
- entrance fees to parks
Does not include spending money: about $250, which you can withdraw in local currency from an ATM in Bagaces. You will need this money to buy
- food while in Bagaces at beginning and end of trip
- spending money in Bagaces, Santa Elena, Puntarenas, Guayacan
- souvenirs
Maximum number of students allowed is 18 (limited space on the microbus).
This is an interdisciplinary course for students from any major, and open to the tri-college system (MSUM, NDSU, Concordia: students must be able to attend weekly class meetings at MSUM for 2h on Thursday or Friday afternoons.
For more information and to express interest in taking this course please contact the course instructors.