BIOL 355 TROPICAL FIELD BIOLOGY (LASC 10)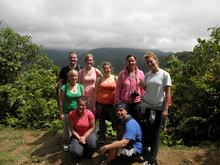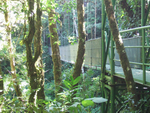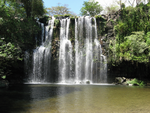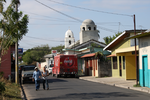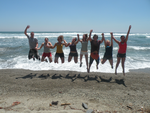 Course instructors for 2013: Brian Wisenden (wisenden@gmail.com) and Dan McEwen (mcewenda@mnstate.edu)
Course objectives:
1. Introduction to the ecology of tropical ecosystems
2. Introduction to conservation biology
- the difficulty of balancing conservation with socioeconomic and political forces
3. Costa Rica as a case study
- the biology of Costa Rica
- the history of Costa Rican culture
- birth of present day park system
4. Field trip to Costa Rica over March break (8-17 March 2013) to gain first-hand experience
Tentative itinerary for 8 - 17 March, 2013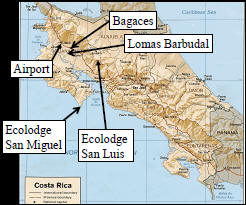 Additional pictures and information are on this pdf
Fri 8th: fly from Fargo to Liberia, meet microbus, travel to Bagaces
Sat 9th: Lomas Barbudal, Cataratas llanos de Cortez, Rodeo in Bagaces(?)
Sun 10th: Travel to Puntarenas, take ferry across golfo Nicoya, settle in Ecolodge San Miguel in Cabo Blanco
Mon 11th: Birding, hiking, snorkeling, tide-pooling
Tue 12th: Birding, hiking, snorkeling, tide-pooling
Wed 13th: Travel via Puntarenas ferry to Ecolodge San Luis in cloud forest
Thu 14th: Camino Real, waterfall hike, Sky Walk/Zip Line
Fri 15th: Monteverde (with professional bird guide), evening in Santa Elena
Sat 16th: Travel to Bagaces, settle, Fiesta
Sun 17th: Fly from Liberia to Fargo
Cost:
Flat rate of $2400 (financial aid available), which includes:
- airfare to and from Fargo airport
- transportation by microbus within Costa Rica
- ferry fare
- accommodations at all hotels and ecolodges
- all food at ecolodges
- entrance fees to parks (but cost of zip line is not included)
Does not include (bring about $250, can withdraw funds in local currency from ATM in Bagaces):
- food while in Bagaces at beginning and end of trip
- spending money in Santa Elena, Puntarenas, souvenirs, etc.
- 3 cr of tuition
Deposit of $200 is due Nov 23
Remaining $2200 is due at end of January (when financial aid is dispersed)
Maximum number of students allowed is 18 (limited space on the microbus).
This is an interdisciplinary course for students from any major, and open to the tri-college system (MSUM, NDSU, Concordia: students must be able to attend weekly class meetings at MSUM, typically held for 2h on Thursday or Friday afternoons. We set the precise meeting time once the class has enrolled and know when everyone is available).
For more information and to express interest in taking this course please contact the course instructors.