Click on some images for further information
________________________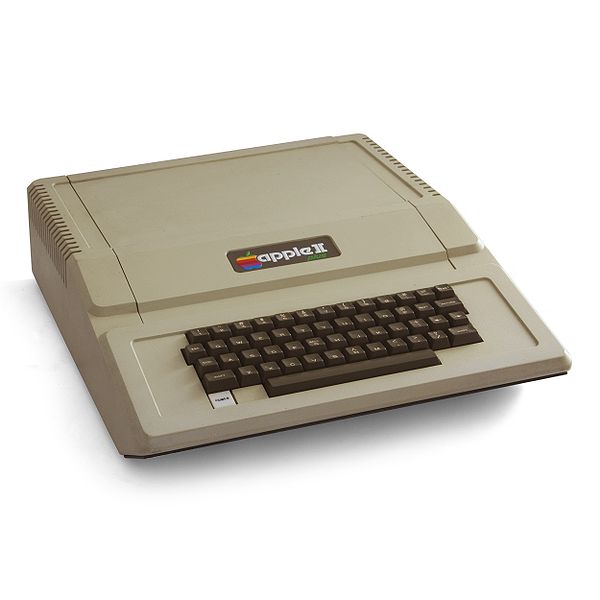 At a cost of $1200 (nearly $4000 in 2010 prices) almost none of the students at MSU could afford the Apple II-Plus personal computer in 1980. But the pc revolution was just beginning.

_________________________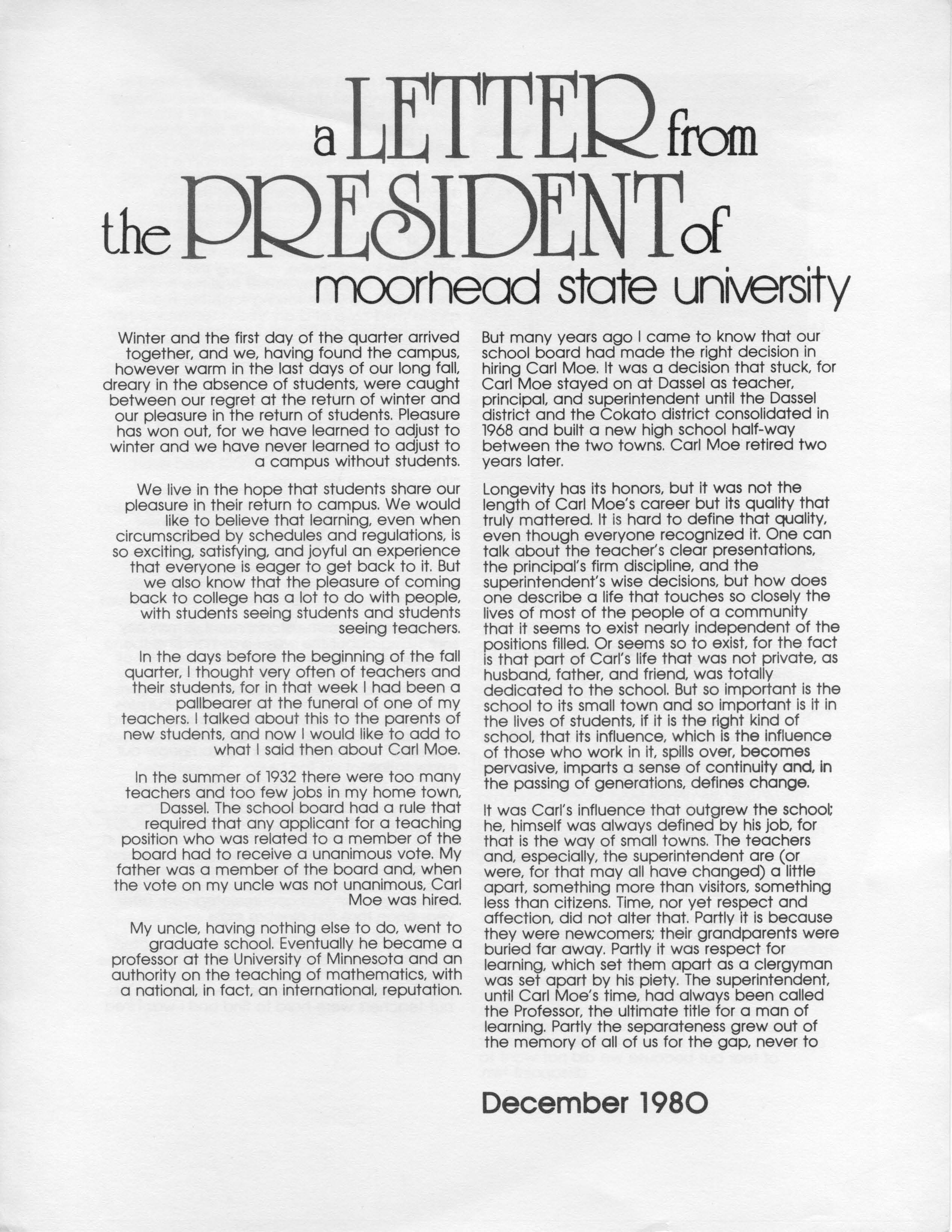 President's Christmas letter on state of the University,
1980. Click on image to read letter.

______________________________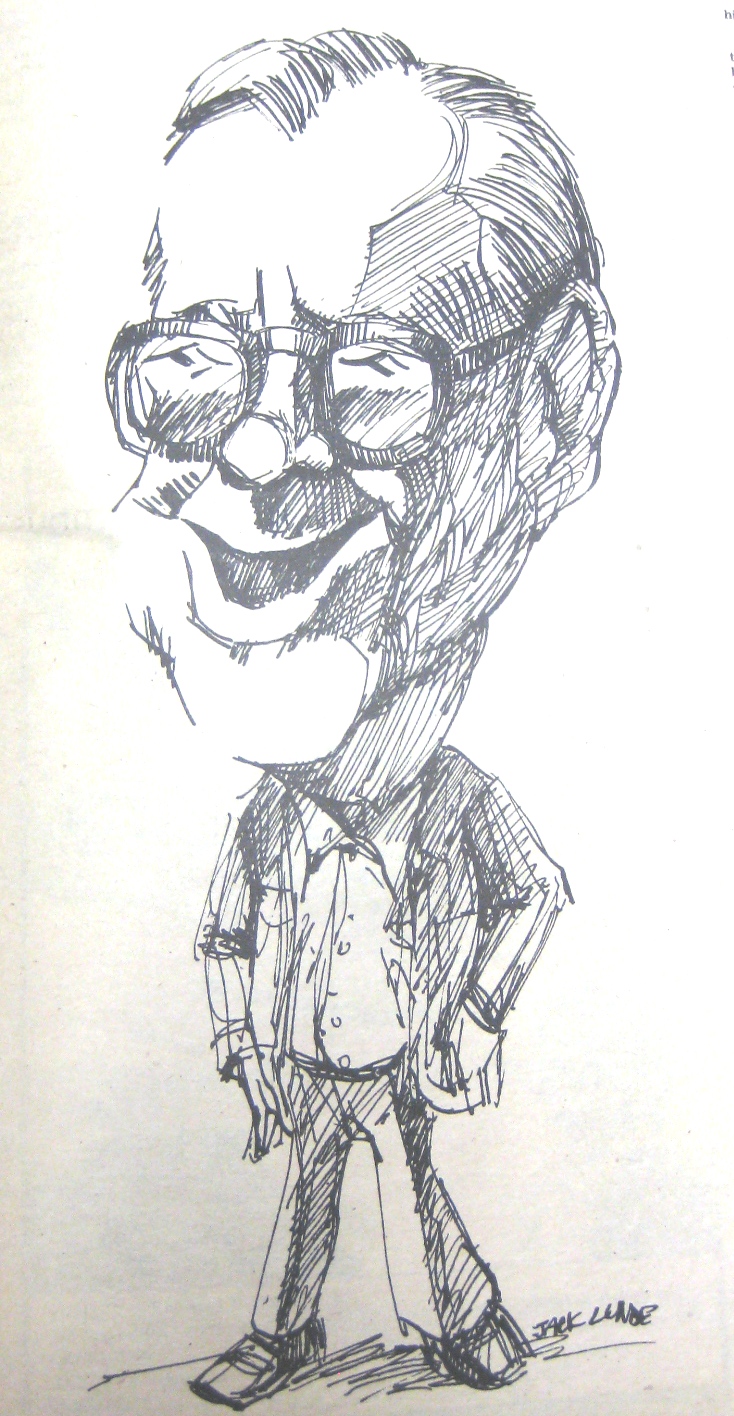 The reputation of MSU's theater program grew throughout the 1980s, due largely to director Del Hanson's energy and enthusiasm (caricature of Hanson from the Advocate).

_____________________________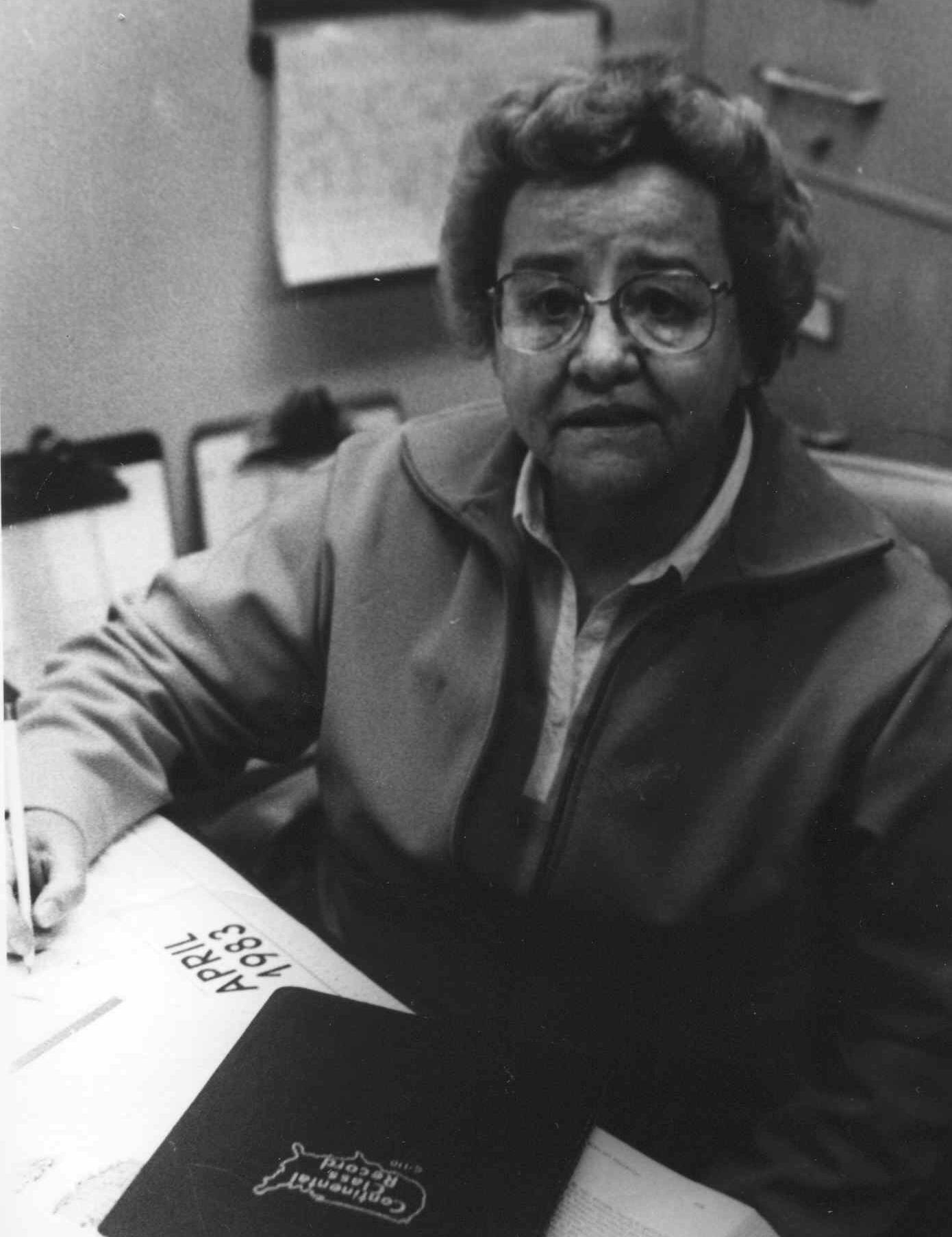 Viola Powell retired in 1983 after teaching PE for fifteen years. Having served in the Navy in the 1940s and worked as a translator of German documents during the Nuremberg War Crimes trials, she planned to travel after leaving MSU -- by flying across the country in her own airplane.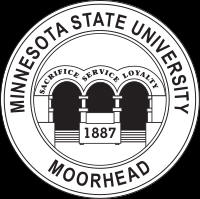 Click the MSU seal for
a roundup of MSU sports.
_____________________________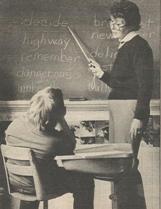 A national education study in 1985 found that MSU alumnae Jan Herbranson (above, class of 1967) was the lowest paid teacher in the country (less than $7000 annual salary). Even so, the majority of her 16 all-class students in the one-room school house where she taught, near McCloud, North Dakota, scored high in achievement tests, and almost all went on to success in college.
____________________________

Given the increasing stress and the cost of college education, the Counseling Center expanded its workload (read the Center's 1985 plan to help students succeed).
___________________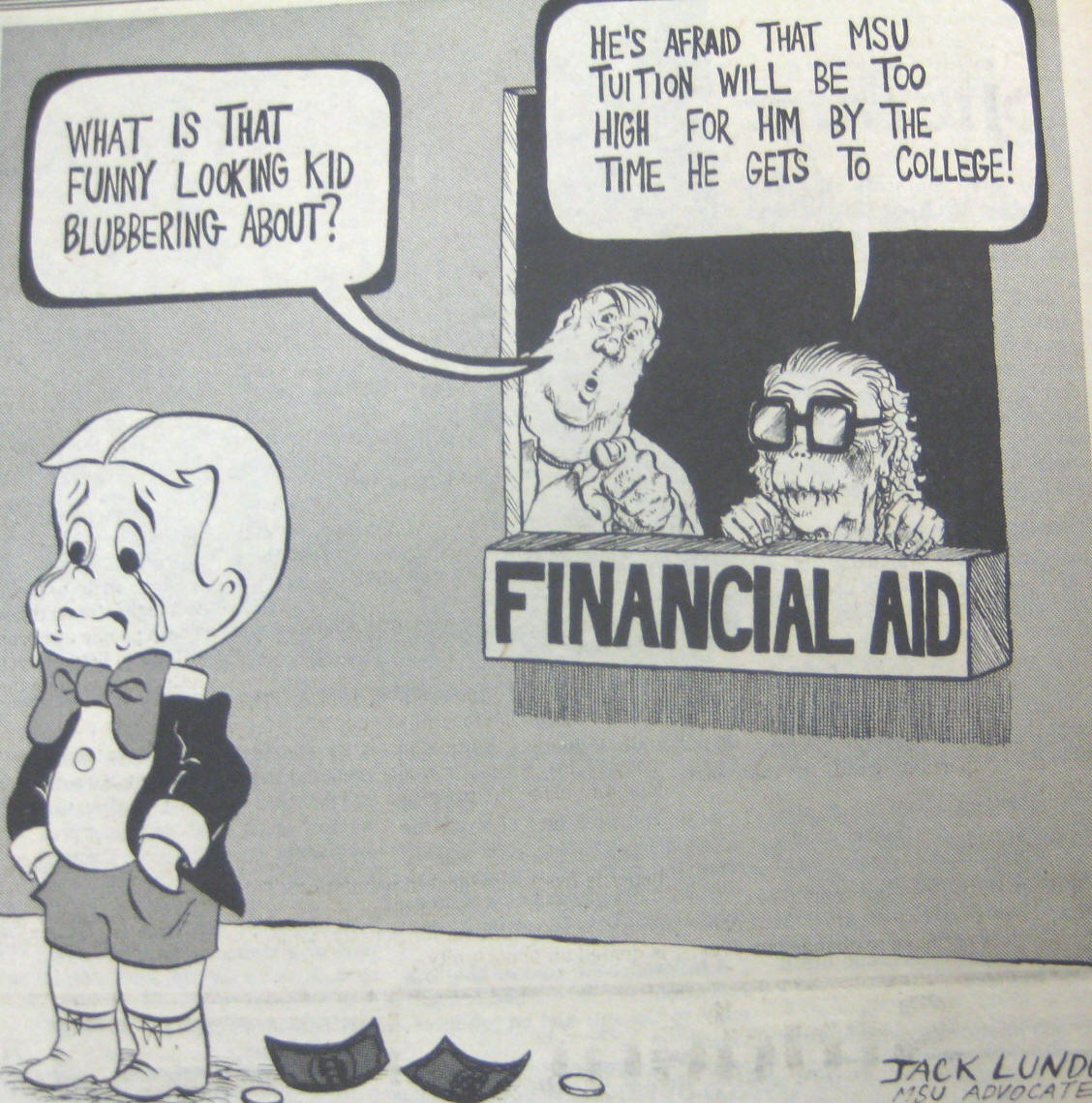 Tuition increased by 200 percent between 1980 and 1986 (Jack Lunde cartoon in the Advocate, 1984).
__________________________


CLICK BUTTON ABOVE FOR

THE REST OF THE 1980s
TIMELINE (**some linked documents require Adobe software to read)


January, 1980 -- Post-Christmas classes resume at MSU, with the nation in turmoil over the ongoing hostage crisis in Iran. At MSU, students are just as concerned about rising prices (gasoline is $1.20, and milk 85 cents, a gallon). Rising food and fuel prices only exacerbate student frustrations, partly in light of the Minnesota legislature's decision to raise the legal drinking age again to 21.
February, 1980 -- Vice President Walter Mondale visits MSU, which he calls the "classiest state university in the nation." He reassures students that President Jimmy Carter has "no intention" of confronting the Russian invasion of Afghanistan with military force.
March, 1980 -- Minnesota's Higher Education Coordinating Board anticipates a decline in enrollment in state universities by 1990. Due to changing birth rates, rising costs and growth of community colleges, enrollment could fall as much as 25 percent. MSU administration plans to meet the possibility by greater out-of-state recruitment.
March, 1980 -- U.S. Senator Rudy Boschwitz visits MSU and used a makeshift still to make alcohol; "not to drink," he notes, but to burn as fuel. He urges state university chemistry classes to research the potential of corn-based "gasohol" additives for automobiles.
April, 1980 -- Unhappy with the State University Board's attempts to trim budgets, the Inter-Faculty Organization (IFO) of university teachers call for replacement of the Board's chancellor, Gary Hays. "Hays and the SUB think they are the managers of a corporation," the IFO charges. "A university is not created to make a profit but to give students a good education."
May, 1980 -- MSU alumnus Mike Francis (class of 75), a nationally ranked long-distance runner, tells Advocate staff that while he hopes to qualify for the coming summer Olympics, he understands the possibility that America might boycott the coming Games. "If a boycott by the U.S. will help get the Soviets out of Afghanistan, I'll go along with that policy." The U.S. does boycott the 1980 Games.
September, 1980 -- As the administration warns that further tuition increases are "likely," the Advocate publishes a story of students' increasing use of "discount and second-hand stores" for furnishing dorm rooms and apartments.
November, 1980 -- "Dollars for Scholars" fund-raising campaign begins with a phonathon staffed by faculty, students and staff.
December, 1980 -- As increasing numbers of students object to the use of mice and other animals in lab courses, MSU psychology instructor Richard Wielkiewicz admits he uses shock tests on rats to study human depression but notes "I always test the shocks on myself before administering them to the rats."

February, 1981 -- MSU hosts traveling exhibit of photographs on the Great Depression of the 1930s in Minnesota. The exhibit "raises questions about the extent of government interference in the lives of its citizens, and how people viewed economic relief in the 1930s and how they view it today."
March, 1981 -- MSU music department opens its "new electronic studio" in the Center for the Arts. The studio's keyboard synthesizers and modulators make the the facility the "best of its kind in the Tri-State area," notes music professor Mark Fasman.
April, 1981 -- Two MSU faculty, poet Tom McGrath and artist Timothy Solien, receive Bush Foundation grants for independent creative work in the arts. Nancy Parlin, Dean of Arts and Humanities, receives a similar Bush Grant for summer study at Harvard University's Management Institute.
May, 1981 -- Spring classes wrap up, but MSU staff are pleased to note that enrollments are high for summer classes in German, Aerobics, Chinese culture and Scandinavian Studies.

September, 1981 -- Fall semester begins with satisfactory enrollment, but students are disappointed with 3-3 tie in the annual MSU-Concordia football rivalry.
October, 1981 -- Feminist Gloria Steinem visits MSU for a speaking engagement and notes that women need to seek more leadership roles on campus.
November, 1981 -- English department offers a course on the novels of Tolkien, while the department ponders the declining writing skills of students.
December, 1981 -- A survey of alcohol use in dorms suggests that many students are drinking more, "binge drinking" is becoming popular.

January, 1982 -- The campus feels the excitement as Mark Reed, former quarterback for the Dragons, is drafted by the NFL New York Giants. Although Reed's NFL career will be brief, the draft reflects the success of the MSU program.
January, 1982 -- Students feel the pain as the State University Board approves a 27% tuition increase. It will cost $17.65 a credit in Fall 1982 (as opposed to $7.25 in 1972).
March, 1982 -- Given the inflation of college costs, MSU administration now "anticipates cuts in the number of faculty."
April, 1982 -- MSU student Mark Hilde will serve as First Mate on the Hjemkomst, a Viking ship replica that will sail from North America to Norway in the spring. The Hjemkomst was designed and built by the late Robert Asp, an area teacher.
May, 1982 -- As graduation looms, the Advocate raises a question -- do academic credentials, or good looks and charm, do more to help people get jobs? The issue is not easily answered in an era dominated by mass media.
May, 1982 -- Twelve long-serving faculty of Moorhead State take their retirement, including Tom McGrath, Marlowe Wegner, Margaret Reed, Jack Youngquist, Alice Bartels, and Ed Estes.

June, 1982 -- With the post of chancellor vacant, the Minnesota State University System unanimously chooses Roland Dille to become acting chancellor. Dille declines interest in keeping the position as a national search begins.
August, 1982 -- MSU holds an Alumni Reunion Spectacular to promote membership in the University's Foundation, raise contributions for scholarships, and publicize its upcoming 100th anniversary in 1987.
September, 1982 -- Classes begin with enrollment down 3% from the previous academic year. Inflations has pushed tuition up nearly 30% over two years, and job placement is lower among the spring graduates. In a two-part series, the Advocate asks if rising costs and uncertain futures will make college a less attractive investment.
October, 1982 -- Jesse McKellar, retired professor of physical education and coach of women's sports, becomes first woman inducted into the Dragon Hall of Fame.
October, 1982 -- For the first time, business passed education as the largest major on the MSU campus.
November, 1982 -- A student is placed on probation after calling one of her instructors a "f****** bastard." In light of the Advocates' freedom to freely quote the story, this ignites a debate over the right to free speech and the verbal abuse sections of the Student Conduct Code.
December, 1982 -- The Everywoman's Guide to Colleges and Universities ranks Moorhead State with Ohio State and Berkeley as "one of the nation's top co-educational institutions for women."
January, 1983 -- Students prepare a petition urging the State Legislature to take measures to slow the rise in tuition (which has increased by 44% over four years).
March, 1983 -- MSU campus is all but empty March 26, as future U.S. Senator Al Franken, with stage partner Tom Davis, perform their "Saturday Night Live" comedy act in Fargo.
April, 1883 -- Students from state universities demonstrate at Capitol Building in St. Paul, against "crippling" tuition costs for higher education.

May, 1983 -- The MSU baseball team completes its final season, going out in style with a 28-16 record, an NIC championship and the NAIA District 13 championship. Most of the players subsequently transferred to other schools, two playing for the University of Minnesota. The university's gymnastics program is also closed down to balance the budget.
September, 1983 -- Enrollment drops slightly for the second straight year. Maridel LeSueur, journalist, novelist and poet, who was blacklisted in the 1950s for her pro-labor writings, speaks at the MSU Visiting Scholars program.
October, 1983 -- Holmquist Hall is briefly infested with fleas; "we'd go to bed at night and wonder how many bites we'd get," reports a resident. It takes two weeks to clear the hall of the problem.
December, 1983 -- A possible strike is averted when the state reaches an agreement with the IFO faculty union for a new contract.
January, 1984 -- Basketball team center Mike Bednarek is named to the NIC All-Conference team for his scoring and rebounding prowess.
February, 1984 -- MSU celebrates its 97th year with an all-class reunion/party at Moorhead's Ramada Inn.
March, 1984 -- Enrollment increases to 7200, as Minnesota's new state SELF program (Student Educational Loan Fund) provides additional loans for college. Acting on an initiative from Professor Peter Geib, MSU creates the first International Business studies program in the state. (Read the program brochure)
May, 1984 --MSU women's basketball sophmore Karen Card is named to the NAIA All American team.
September, 1984 -- MSU celebrates a two percent increase in enrollment, partly due to vigorous recruitment and scholarship money raised with the assistance of the MSU Foundation (read about -- the origins of the MSU Foundation).
October, 1984 -- Former presidential candidate George McGovern visits MSU and speaks on the need for nuclear arms limitations. "Without co-existence, there will be no existence," he tells a large audience of students.
November, 1984 -- Argument begins on campus over the announcement that the university administration has decided to ban the sale of Penthouse on campus. Many students complain that the ban violates their freedom to choose what they want to read, while others argue that the magazine is an affront to women. The administration stands by the ban, saying that the magazine can be purchased elsewhere in the community.
December, 1984 -- As Christmas looms, the university celebrates an unexpected present -- enrollment for winter quarter is up two percent over the fall quarter enrollment.